People who do technical work with sound use spectrograms a heck of a lot. This standard way of visualising sound becomes second nature to us.
As you can see from these photos, I like to point at spectrograms all the time: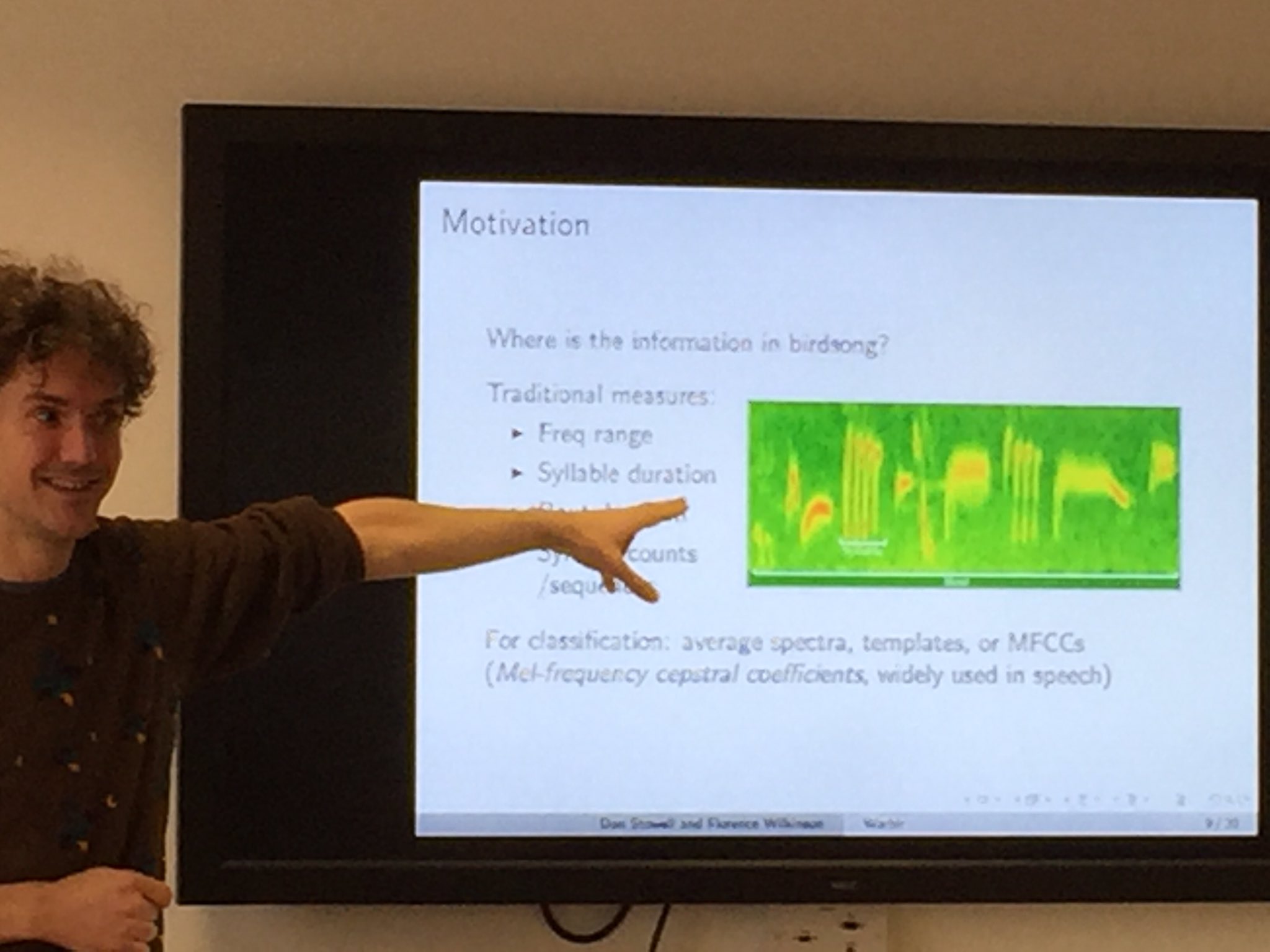 (Our research group even makes some really nice software for visualising sound which you can download for free.)
It's helpful to transform sound into something visual. You can point at it, you can discuss tiny details, etc. But sometimes, the spectrogram becomes a stand-in for listening. When we're labelling data, for example, we often listen and look at the same time. There's a rich tradition in bioacoustics of presenting and discussing spectrograms while trying to tease apart the intricacies of some bird or animal's vocal repertoire.
But there's a question of validity. If I look at two spectrograms and they look the same, does that mean the sounds actually sound the same?
In strict sense, we already know that the answer is "No". Us audio people can construct counterexamples pretty easily, in which there's a subtle audio difference that's not visually obvious (e.g. phase coherence -- see this delightfully devious example by Jonathan le Roux.) But it could perhaps be even worse than that: similarities might not just be made easier or harder to spot, in practice they could actually be differently arranged. If we have a particular sound X, it could audibly be more similar to A than B, while visually it could be more similar to B than A. If this was indeed true, we'd need to be very careful about performing tasks such as clustering sounds or labelling sounds while staring at their spectrograms.
So - what does the research literature say? Does it give us guidance on how far we can trust our eyes as a proxy for our ears? Well, it gives us hints but so far not a complete answer. Here are a few relevant factoids which dance around the issue:
Agus et al (2012) found that people could respond particularly fast to voice stimuli vs other musical stimuli (in a go/no-go discrimination task), and that this speed wasn't explained by the "distance" measured between spectrograms. (There's no visual similarity judgment here, but a pretty good automatic algorithm for comparing spectrograms [actually, "cochleagrams"] acts as a proxy.)
Another example which Trevor Agus sent me - I'll quote him directly: "My favourite counterexample for using the spectrogram as a surrogate for auditory perception is Thurlow (1959), in which he shows that we are rubbish at reporting the number of simultaneous pure tones, even when there are just 2 or 3. This is a task that would be trivial with a spectrogram. A more complex version would be Gutschalk et al. (2008) in which sequences of pure tones that are visually obvious on a spectrogram are very difficult to detect audibly. (This builds on a series of results on the informational masking of tones, but is a particularly nice example and audio demo.)"
Zue (1985) gives a very nice introduction and study of "spectrogram reading of speech" - this is when experts learn to look at a spectrogram of speech and to "read" from it the words/phonemes that were spoken. It's difficult and anyone who's good at it will have had to practice a lot, but as the paper shows, it's possible to get up to 80-90% accuracy on labelling the phonemes. I was surprised to read that "There was a tendency for consonants to be identified more accurately than vowels", because I would have thought the relatively long duration of vowels and the concentration of energy in different formants would have been the biggest clue for the eye. Now, the paper is arguing that spectrogram reading is possible, but I take a different lesson from it here: 80-90% is impressive but it's much much worse than the performance of an expert who is listening rather than looking. In other words, it demonstrates that looking and listening are very different, when it comes to the task of identifying phonemes. There's a question one can raise about whether spectrogram reading would reach a higher accuracy if someone learned it as thoroughly as we learn to listen to speech, but that's unlikely to be answered any time soon.
Rob Lachlan pointed out that most often we look at standard spectrograms which have a linear frequency scale, whereas our listening doesn't really treat frequency that way - it is more like a logarithmic scale, at least at higher frequencies. This could be accommodated by using spectrograms with log, mel or ERB frequency scales. People do have a habit of using the standard spectrogram, though, perhaps because it's the common default in software and because it's the one we tend to be most familiar with.
We know that listening can be highly accurate in many cases. This is exploited in the field of "auditory display" in which listening is used to analyse scatter plots and all kinds of things. Here's a particularly lovely exmaple quoted from Barrett & Kramer (1999): "In an experiment dating back to 1945, pilots took only an hour to learn to fly using a sonified instrument panel in which turning was heard by a sweeping pan, tilt by a change in pitch, and speed by variation in the rate of a "putt putt" sound (Kramer 1994a, p. 34). Radio beacons are used by rescue pilots to home-in on a tiny speck of a life-raft in the vast expanse of the ocean by listening to the strength of an audio signal over a set of radio headphones."
James Beauchamp sent me their 2006 study - again, they didn't use looking-at-spectrograms directly, but they did compare listening vs spectrogram analysis, as in Agus et al. The particularly pertinent thing here is that they evaluated this using small spectral modifications, i.e. very fine-scale differences. He says: "We attempted to find a formula based on spectrogram data that would predict percent error that listeners would incur in detecting the difference between original and corresponding spectrally altered sounds. The sounds were all harmonic single-tone musical instruments that were subjected to time-variant harmonic analysis and synthesis. The formula that worked best for this case (randomly spectrally altered) did not work very well for a later study (interpolating between sounds). Finding a best formula for all cases seems to still be an open question."
Really, what does this all tell us? It tells us that looking at spectrograms and listening to sounds are different in so many myriad ways that we definitely shouldn't expect the fine details to match up. We can probably trust our eyes for broad-brush tasks such as labelling sounds that are quite distinct, but for the fine-grained comparisons (which we often need in research) one should definitely be careful, and use actual auditory perception as the judge when it really matters. How to know when this is needed? Still a question of judgment, in most cases.
My thanks go to Trevor Agus, Michael Mandel, Rob Lachlan, Anto Creo and Tony Stockman for examples quoted here, plus all the other researchers who kindly responded with suggestions.
Know any research literature on the topic? If so do email me - NB there's plenty of literature on the accuracy of looking or of listening in various situations; here the question is specifically about comparisons between the two modalities.